THE TRUFFLE WITH WEDDINGS
An over-the-top Valentine's Day wedding. A poisoned box of chocolates. Will the most romantic holiday of the year become the most deadly?
BUY NOW ON: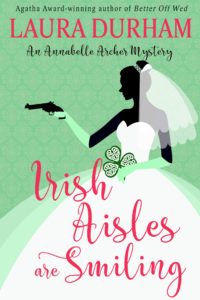 IRISH AISLES ARE SMILING
A trip to Ireland to locate a romantic wedding venue for a bride sounds like the ideal getaway for a wedding planner and her team . . . until they stumble upon a body in a castle.
GODFATHER OF THE BRIDE
What could possibly go wrong at Leatrice's wedding? With wise guys on the loose, colorful hairdresser Fern dressed as a priest, and guests dropping from the heat, suddenly bridezillas don't seem so bad!
CLAUS FOR CELEBRATION
Wedding disasters are one thing. A missing Santa (who is presumed dead) is quite another. A charming holiday novel!
BUY NOW ON:
BRIDE OR DIE
Can the wedding planner get married? Not without a lot of drama…and a little murder!

"A great cozy murder mystery with plenty of humor that will keep you entertained until the last page."
-Mostly Mystery Reviews

"The weddings and woundings continue in Durham's second slapstick romp."
-Publishers Weekly

"Intriguing and downright delightful, Durham's latest will have you in stitches . . ."
–Romantic Times Magazine
"This series is the perfect marriage between romance and wit"
–Mystery Scene Magazine